You should be able to anticipate what problems might arise during training and address them. Some of the common problems include: the training loss doesn't decrease, overfitting, underfitting, fluctuating weight values, dead neurons, etc. These problems are covered in the Regularization and training techniques, Optimization, and Activations sections in Chapter 9: Deep Learning.
Debugging
Have you ever experienced the euphoria of having your model work flawlessly on the first run? Neither have I. Debugging a machine learning model is hard, so hard that poking fun at how incompetent we are at debugging machine learning models has become a sport.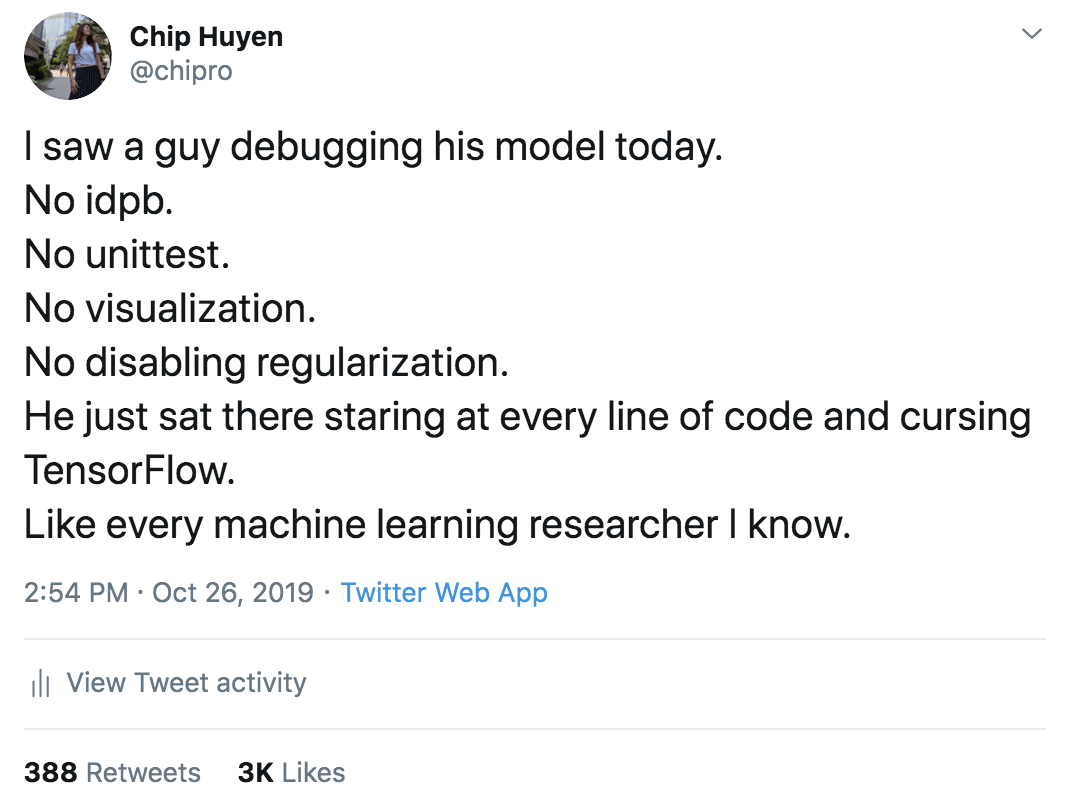 There are many reasons that can cause a model to perform poorly:
Theoretical constraints: e.g. wrong assumptions, poor model/data fit.
Poor model implementation: the more components a model has, the more things that can go wrong, and the harder it is to figure out which goes wrong.
Snobby training techniques: e.g. call model.train() instead of model.eval() during evaluation.
Poor choice of hyperparameters: with the same implementation, a set of hyperparameters can give you the state-of-the-art result but another set of hyperparameters might never converge.
Data problems: mismatched inputs/labels, over-preprocessed data, noisy data, etc.
Most of the bugs in deep learning are invisible. Your code compiles, the loss decreases, but your model doesn't learn anything or might never reach the performance it's supposed to. Having a procedure for debugging and having the discipline to follow that principle are crucial in developing, implementing, and deploying machine learning models.
During interviews, the interviewer might test your debugging skills by either giving you a piece of buggy code and ask you to fix it, or ask you about steps you'd take to minimize the opportunities for bugs to proliferate. There is, unfortunately, still no scientific approach to debugging in machine learning. However, there have been a number tried-and-true debugging techniques published by experienced machine learning engineers and researchers. Here are some of the steps you can take to ensure the correctness of your model.
Start simple and gradually add more components

Start with the simplest model and then slowly add more components to see if it helps or hurts the performance. For example, if you want to build a recurrent neural network (RNN), start with just one level of RNN cell before stacking multiple together, or adding more regularization. If you want to use a BERT-like model (Devlin et al., 2018) which uses both masked language model (MLM) and next sentence prediction loss (NSP), you might want to use only the MLM loss before adding NSP loss.

Currently, many people start out by cloning an open-source implementation of a state-of-the-art model and plugging in their own data. On the off-chance that it works, it's great. But if it doesn't, it's very hard to debug the system because the problem could have been caused by any of the many components in the model.

Overfit a single batch

After you have a simple implementation of your model, try to overfit a small amount of training data and run evaluation on the same data to make sure that it gets to the smallest possible loss. If it's for image recognition, overfit on 10 images and see if you can get to the accuracy to be 100%, or if it's for machine translation, overfit on 100 sentence pairs and see if you can get to the BLEU score of near 100. If it can't overfit a small amount of data, there's something wrong with your implementation.

Set a random seed

There are so many factors that contribute to the randomness of your model: weight initialization, dropout, data shuffling, etc. Randomness makes it hard to compare results across different experiments -- you have no idea if the change in performance is due to a change in the model or a different random seed. Setting a random seed ensures consistency between different runs. It also allows you to reproduce errors and other people to reproduce your results.
Resources
Hyperparameter tuning
With different sets of hyperparameters, the same model can give drastically different performance on the same dataset. Melis et al. showed in their 2018 paper On the State of the Art of Evaluation in Neural Language Models that weaker models with well-tuned hyperparameters can outperform stronger, more recent models.
Despite knowing its importance, people without real-world experience often ignore systematic approaches to hyperparameter tuning in favor of manual, gut-feeling approach. The most popular method is arguably Graduate Student Descent (GSD), a technique in which a graduate student plays around with the hyperparameters until the model works (GSD is a well-documented technique, see here, here, here, and here).
There have been a lot of research done on hyperparameter search algorithms, as well as tools to help you automatically search for a good set of hyperparameters. You might want to check out some of the popular methods for hyperparameter tuning including random search, grid search, Bayesian optimization. The book AutoML: Methods, Systems, Challenges by the AutoML group at the University of Freiburg dedicates its first chapter to hyperparameter optimization, which you can read online for free here.
The performance of each set of hyperparameters is evaluated on the validation set. Keep in mind that not all hyperparameters are created equal. A model's performance might be more sensitive to the change in one hyperparameter, and there have also been research done on accessing the importance of different hyperparameters.
Scaling
As models are getting bigger and more resource-intensive, companies care a lot more about training at scale. It's usually not listed as requirements since expertise in scalability is hard to acquire without regular access to massive compute resources. For machine learning engineering roles, you'll get huge bonus points if you're familiar with common scalability challenges and solutions. Scalability is an elaborate topic that merits its own book. This section covers some common issues, but scratches only the surface.
It's not uncommon to train a model with a dataset that can't be fit into the main memory. This is especially common when dealing with medical data such as CT scans or genome sequences. If you run into a situation like this, you should know how to preprocess (e.g. zero-centering, normalizing, whitening), shuffle, and batch your data when it doesn't fit into memory. When each sample of your data is too large, your model can handle a very small batch size, which can lead to instability for stochastic gradient descent based optimization.
On a very rare case, each sample is so large a single sample can't even fit into the memory, you will have to use techniques such as gradient checkpointing, a technique that leverages the memory footprint/computation tradeoff to make your system do more computation but require less memory. You can use an open-source package gradient-checkpointing developed by by Tim Salimans and Yaroslav Bulatov. According to the authors of the package, "for feed-forward model, we were able to fit more than 10x larger models onto our GPU, at only a 20% increase in computation time."
It's almost the norm now for machine learning engineers and researchers to train their models on multiple machines (CPUs, GPUs, TPUs). Modern machine learning frameworks make it easy to do distributed training. The most common parallelization method with multiple workers is data parallelism: you split your data on multiple machines, train your model on all of them, and accumulate gradients. This gives rise to a couple of issues.
The most challenging problem is how to accurately and effectively accumulate gradients from different machines. As each machine produces its own gradient, if your model waits for all of them to finish a run -- this technique is called Synchronous stochastic gradient descent (SSGD) -- stragglers will cause the entire model to slow down.
However, if your model updates the weight using gradient from each machine separately -- this is called Asynchronous SGD (ASGD) -- it will cause gradient staleness because the gradients from one machine has caused the weights to change before the gradients from another machine has come in. How to mitigate gradient staleness is an active area of research.
Second, spreading your model on multiple machines can cause your batch size to be very big. If a machine processes a batch of size 128, then 128 machines processes a batch of size 16,384. If training an epoch on a machine takes 100k steps, training on 128 machines takes under 800 steps. An intuitive approach is to scale learning rate on multiple machines to account for so much more learning at each step, but we also can't make the learning rate too big as it will lead to unstable convergence.
Last but not least, with the same model setup, the master worker will use a lot more resources than other workers. To make the most use out of all machines, you need to figure out a way to balance out the workload among them. The easiest way, but not the most effective way, is to use a smaller batch size on the master worker and a larger batch size on other workers.
With data parallelism, each worker has its own copy of the model and does all the computation necessary for the model. Model parallelism is when different components of your model can be evaluated on different machines. For example, machine 0 handles the computation for the first two layers while machine 1 handles the next two layers, or some machines can handle the forward pass while several others handle the backward pass. In theory, nothing stops you from using both data parallelism and model parallelism. However, in practice, it can pose a massive engineering challenge.
A scaling approach that has gained increasing popularity is to reduce the precision during training. Instead of using a full 32 bits to represent a floating point number, you can use less bits for each number while maintaining a model's predictive power. The paper Mixed Precision Training by Paulius Micikevicius et al. at NVIDIA showed that by alternating between full floating point precision (32 bits) and half floating point precision (16 bits), we can reduce the memory footprint of a model by half, which allows us to double our batch size. Less precision also speeds up computation.
Most modern hardwares for deep learning take advantage of mixed and/or reduced precision training. Newer NVIDIA GPUs, such as Volta and Turing architecture, feature Tensor Cores, processing units that support mixed precision training. Compared to standard FP32 on P100, Tensor Cores provide up to 12x higher peak TFLOPS during training, and up to 6x during inferencing. Google TPUs also support training with Bfloat16 (16-bit Brain Floating Point Format), which the company dubbed as "the secret to high performance on Cloud TPUs."
Resources